AppleInsider is supported by its audience and may earn commission as an Amazon Associate and affiliate partner on qualifying purchases. These affiliate partnerships do not influence our editorial content.

The iPhone is the single best place for a To Do list, because you are nearly always close to it. Here are the best task management apps for it, or your iPad.
Just as with calendars, and email, and weather apps, you already have a To Do app on your iPhone. Apple's own Reminders app is typical of the company in that it's quite clearly simple to use, quite obviously free, but it also hides how powerful it can be.
Reminders is really a kind of mid-level To Do app. There are ones that are much more basic, there are others that are mid-range. And then there are just a couple that are so powerful that they can handle anything you need to throw at them, anything you need to stay on top of.
You could just go to the App Store, search for "To Do," and pick the first of the thousands of apps you see. Any To Do app is better than no to do app, unless you're someone who doesn't have to juggle many or any tasks. In which case, we pause to envy you.
There is the issue that the more powerful To Do apps take time to learn, and they can even be difficult to get fully into. But then the thousands of available To Do apps also include ones that are only extremely easy to use because they do so little.
Depending on your needs, the following are the apps you need to consider first.
Apple Reminders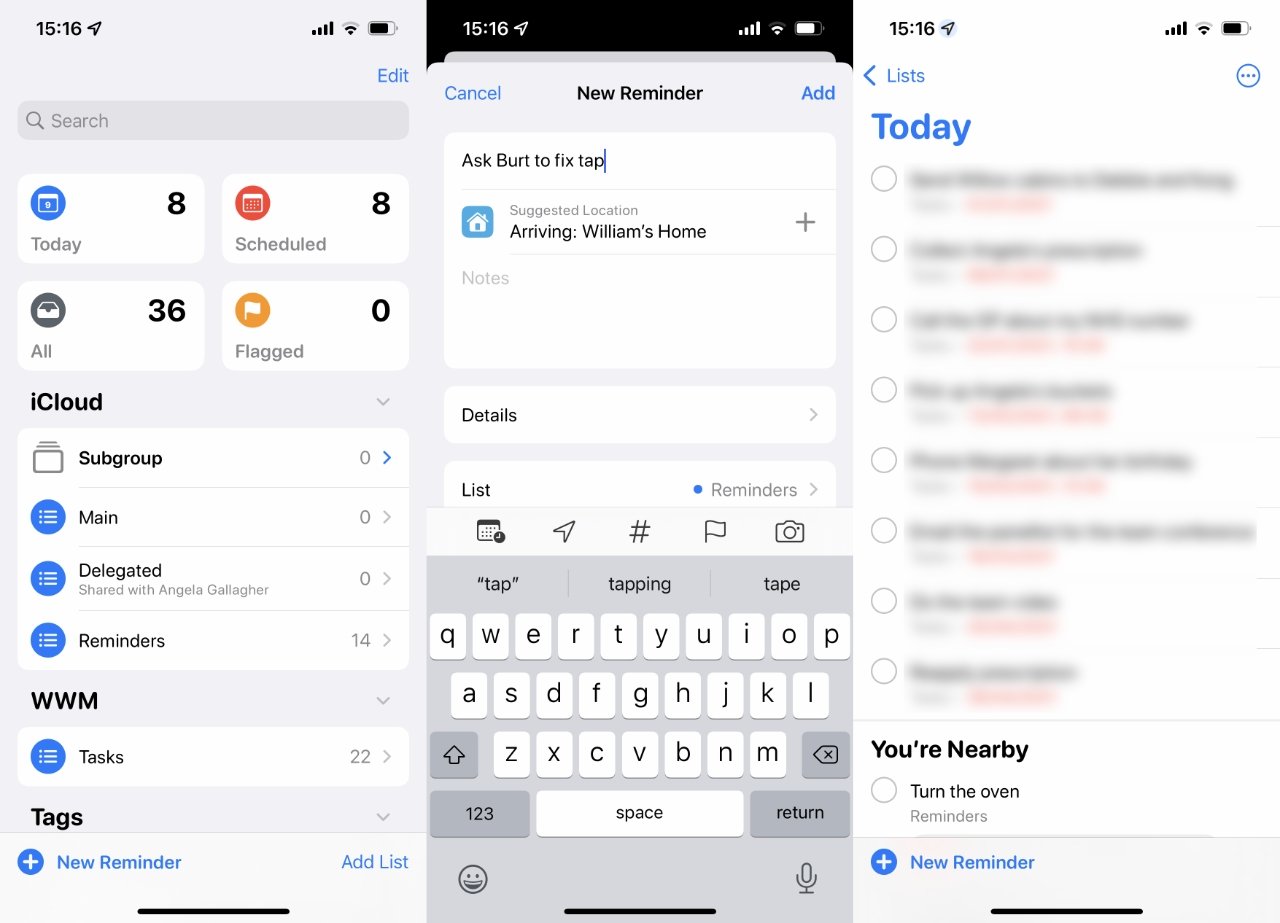 Reminders has been seen as a very basic To Do app, but it introduced a feature that every top-range To Do app immediately copied. That's location reminders.
Tell Reminders you need to pay your credit card bill when you get home, and just about the moment you open your front door, it will remind you. Reminders ties in very well with Siri, too, such that wherever you are right now, you can say, "Hey, Siri, remind me to buy milk when I leave here."
Then when you walk away from wherever you were when you said that, Reminders will remind you.
It's an extraordinarily useful feature, and by itself is one reason why a To Do app is better than a list on a piece of paper.
Todoist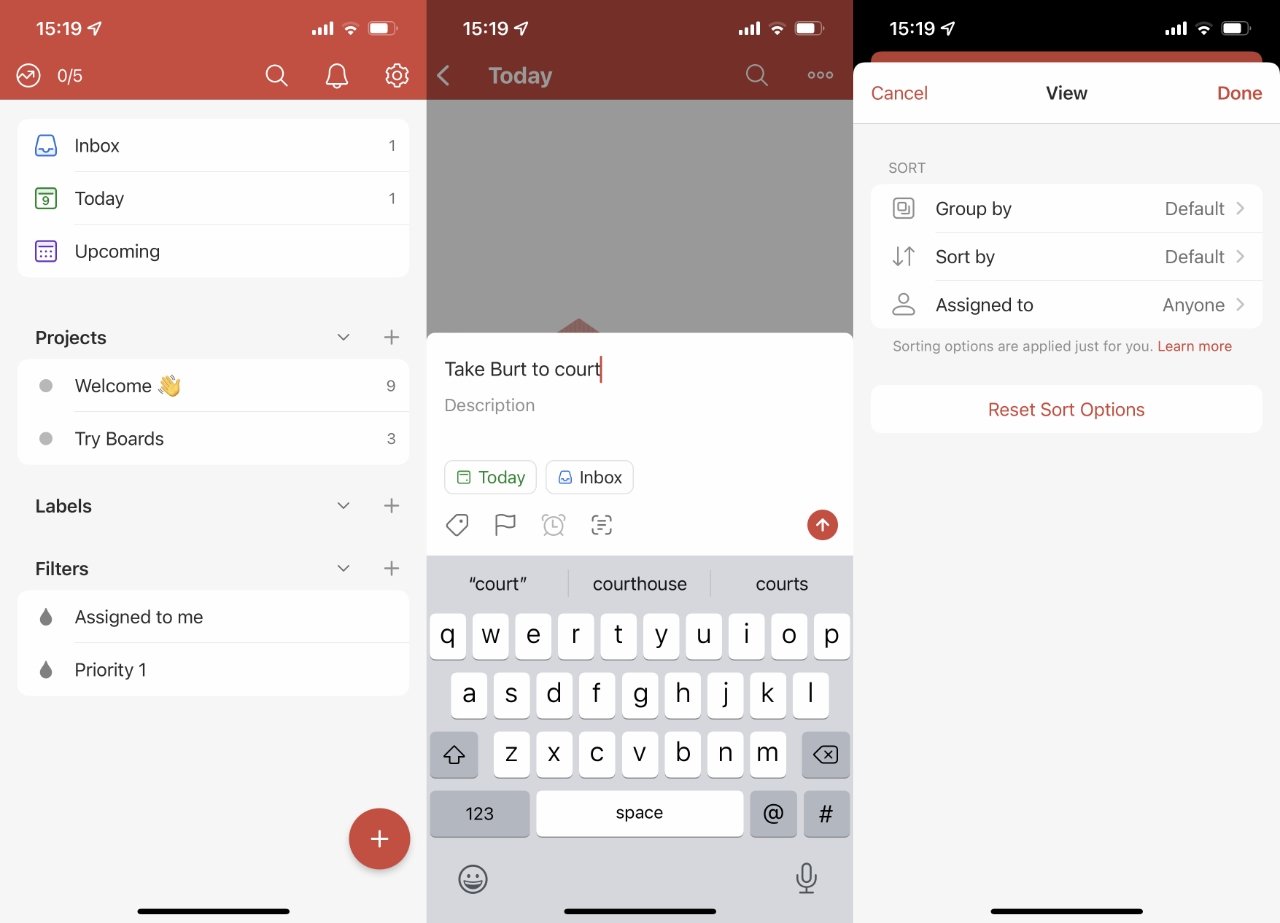 Todoist
Todoist actually straddles the line between a mid-range and top-range To Do app, because it comes in two versions. There's a free version which works the same way as the paid subscription one, but with limitations that are generous. You may not need to move to the paid one, and if you do, you will already know how to use it from the free one.
Chief among the differences is that the free edition of Todoist restricts you to five projects. But that's not much different to limiting you to five folders on your Mac, you can still put anything you like in each one.
Yet it's when you need more than a basic To Do app that you start benefiting from thinking about projects. A project is anything where there's more than one related task, so preparing for your next vacation is a project.
Equally, running your local chess club is a project. Buying milk is not a project.
Todoist is strong on helping you split your tasks up into projects, and so then manage them all better. When you need more than the free version, Todoist costs from $3 per month.
Things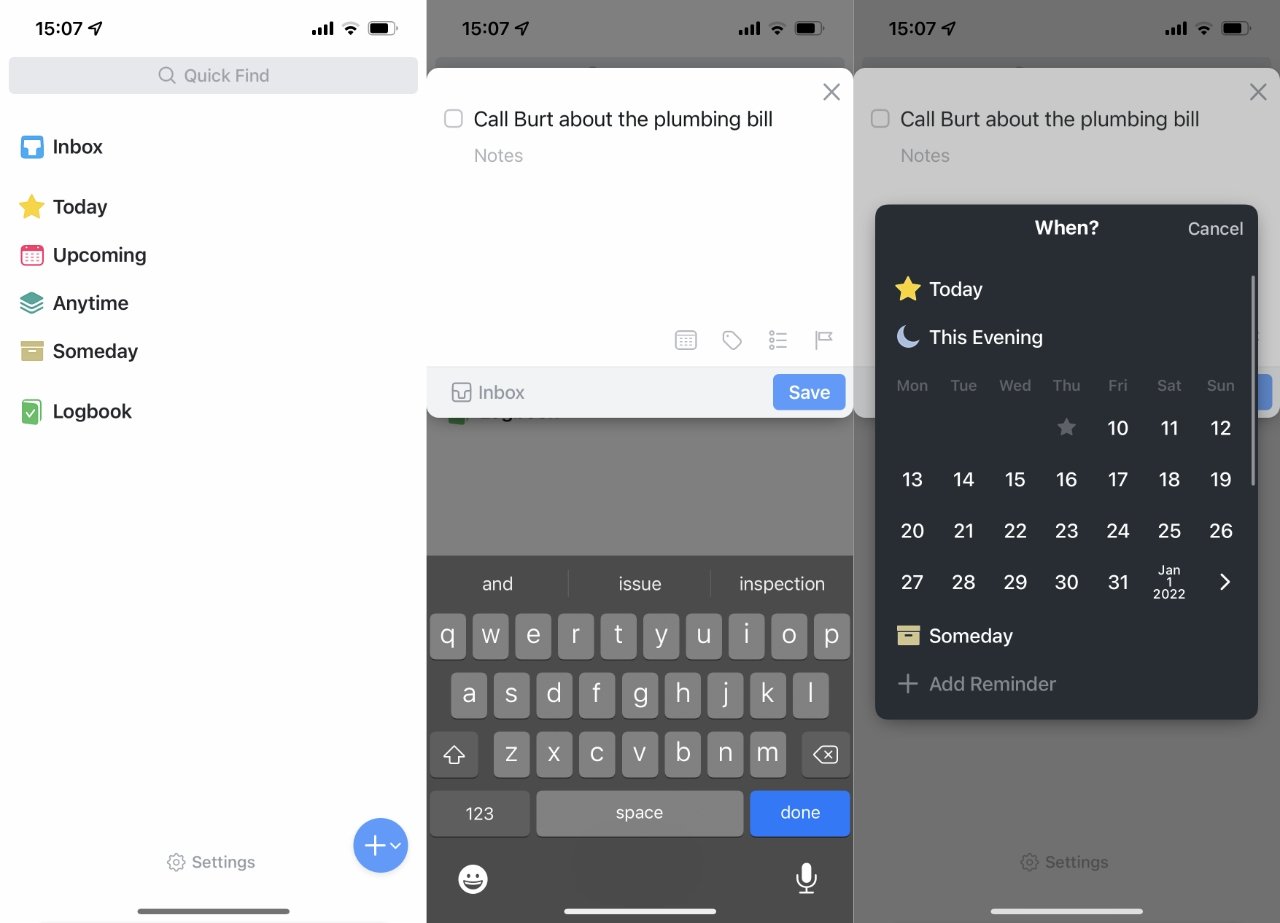 Things
Things is the To Do app from Cultured Code which has perhaps the best design, and certainly the best name, of any task manager. You've got things to do, and now you can have Things to help you do it all.
One unusual feature, and very welcome, is that your To Do project can include a description at the top. It's just a straightforward text description that you write, but somehow it does help you focus. Rather than each project being a potentially endless list of tasks, there is always the reason for the project right there in front of you.
Adding tasks is so simple that it's practically enjoyable, and Things is good at surfacing what you need to do today.
It's less strong on helping you keep on top of everything. You can end up with a lot of tasks in Things where it's up to you to make sure you regularly go back over, or review, all of them.
OmniFocus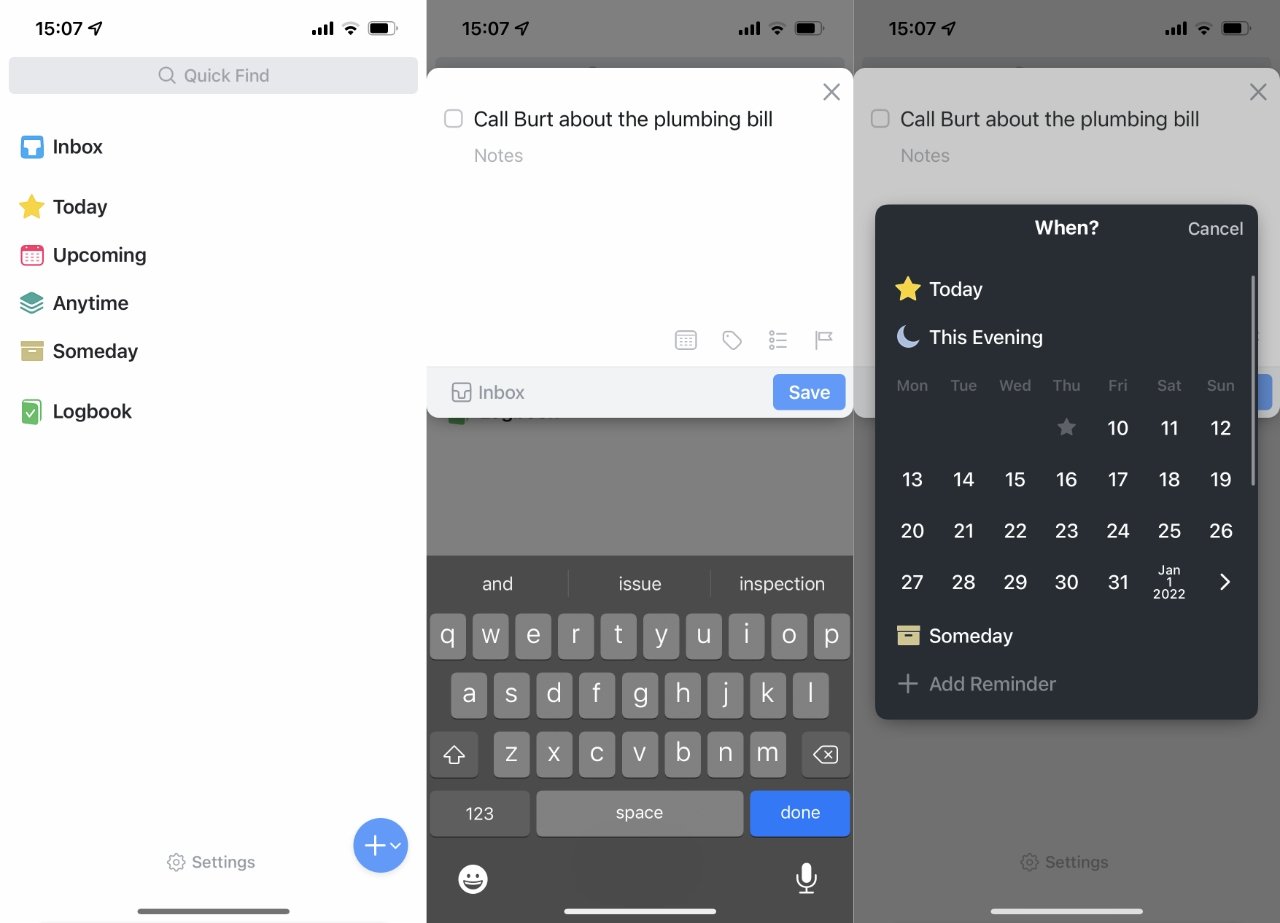 Things
OmniFocus has the edge on Things for features and power. At this level, though, a key differentiator is the feel of an app. You can simply find that either Things or OmniFocus just suits you better, fits you better.
Nonetheless, OmniFocus is the strongest and if you can get very attached to a To Do app, we are super-glued to this one. Whatever you're doing, you can use your nearest Apple device to add a quick thought or a detailed plan right into OmniFocus.
Then as well as being a To Do app that does tell you what you must do today, it's also a Can Do one. Should you ever finish your list for the day, or just need a break from that one, you can have OmniFocus slice through all your tasks, all your projects, to find things you can do quickly.
So maybe you're juggling your Pet Rescue Shelter before work this morning, you're meeting with clients all day, and you're working on the local newspaper this evening. At any point, if you want it to, OmniFocus will list the six phone calls or the eight emails you want to send — regardless of which project they're part of.
OmniFocus for iPhone and iPad costs $49.99 on the App Store. There is also a subscription option that gets you OmniFocus for Mac and the web as well as iOS.
One more thing
These are the best To Do apps available for you on the iPhone. However, we do very specifically mean you. Each of these apps is excellent for you as an individual, but To Do apps tend to be weaker about delegating tasks or other people.
Consequently, if you are juggling lots of people as well as tasks, maybe you don't need a To Do app. You might need a project management one instead, and that's a different can of worms.